India's Former President Dr APJ Abdul Kalam passed away succumbing to a heart attack while giving a lecture at IIM Shillong. Books he wrote were best sellers and a must read for every citizen of India.  (Courtsey : India Today)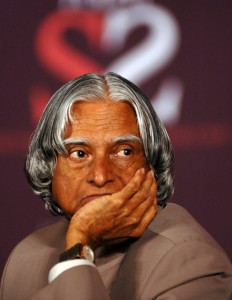 From a boy who belonged to a not-so-rich background to the President of the whole nation, Dr APJ Abdul Kalam has left an indelible image on everyone's mind and heart. Not just the man behind the technological innovations that upsurged our nation, Kalam penned books that always had a message for our countrymen and addressed each and every burning issue faced by India. Here are five of his books, which should be read by every citizen of our nation:
Wings of Fire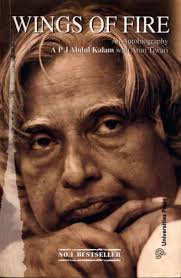 One of the things that stand out throughout the book is Kalam's optimism. This autobiography narrates his story, his incredible journey, from the boy from a humble background who went on to become a chief scientist behind innovations in Indian space research and Indian missile programs, and who later became the president of India. Through Wings of Fire, we also get to know more about many other brilliant people who worked behind Indian space research such as Dr Vikram Sarabhai and Dr Brahm Prakash.
Ignited Minds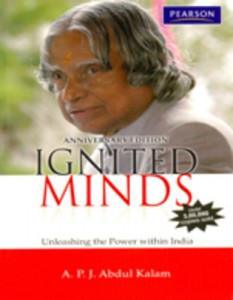 Ignited Minds was written in 2002. It talks about Dr Kalam's experience of meeting students from all over the country. It shows how during the interaction with the people from the entire country, he realised the potential of India to be a developed nation. The book ends with a discussion between the two kids in a mother's womb named 'ego' and 'spirit', which gives a message that we should look beyond what our eyes can see.
Indomitable Spirit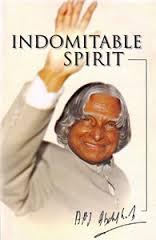 Indomitable Spirit brings together the values, thoughts and ideals of our Former President Kalam. In this book Dr Kalam has showed great respect towards women and said that, "Womanhood is a beautiful creation of God". Indomitable Spirit gives us a detailed picture of his journey from the shores of Rameswaram to the Rashtrapati Bhawan.
India 2020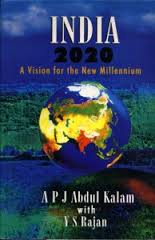 India 2020 is a thought provoking book. Kalam envisions India to attain the status of the fourth developed nation of the world by 2020. In this book, through various statistical proofs, Kalam proves that 'Vision 2020′ is certainly not unattainable. He also illustrates this by giving several examples like the success of the Green Revolution and the development of space technology.
Turning Points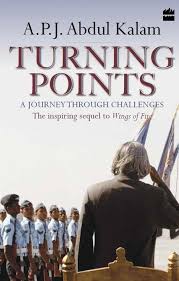 Turning Points is a sequel to Wings of Fire, which dealt with his life up to 1992. This book shows his journey as a President and what happened during his presidency. The book is more like a blueprint of Vision 2020. In this book, he stressed on the fact that India must embrace technology in order to move forward. He has also explained how with the use of e-governance, many modern day problems in India can be solved.
Listen to Dr A P J Abdul Kalam
https://www.youtube.com/watch?t=10&v=Mki0zBB6VeE
Dr. A. P J. Abdul Kalam was fond of writing songs and poetry and he wrote a lot of books in his career:

Developments in Fluid Mechanics and Space Technology, 1988: Dr. A. P. J. Abdul Kalam wrote the book along with Roddam Narasimha
India 2020: A vision for the New Millennium, 1998: Dr. A. P. J. Abdul Kalam wrote the book along with Y S Rajan
Envisioning an Empowered Nation: Dr. A. P. J. Abdul Kalam wrote the book along with A Sivathanu Pillai
You Are Born To Blossom: Take My Journey Beyond, 2011: He wrote the book along with Arum Tiwari
Target 3 Billion, 2011: The book was written along with Srijan Pal Singh
A Manifesto for Change: A Sequel to India 2020: Dr. A.P.J Abdul Kalam wrote the book along with V Ponraj
Reignited: Scientific Pathways to a Brighter Future, 2015: He wrote the book along with Srijan Pal Singh
Transcendence My Spiritual Experiences with Pramukh Swamiji, 2015
My Journey: Transforming Dreams into Actions, 2013
The Luminous Sparks, 2004
Mission India, 2005
Inspiring Thoughts, 2007
Forge your Future: Candid, Forthright, Inspiring, 2014
Turning Points: A journey through challenges, 2012
(Courtsey : India Today)