Chancellor
Home
» About University » Chancellor
Her Excellency Smt. Mridula Sinha
Governor of Goa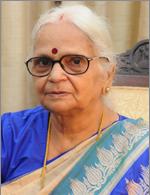 Chancellor
Goa University, Goa
.
4th September 2017
5th September is the birth anniversary of a great teacher Dr. Sarvepalli Radhakrishnan, who was a staunch believer of education, and was a well-known diplomat, scholar, the President of India and above all, a teacher.
When some of his students and friends approached him and requested him to allow them to celebrate his birthday, he said, "instead of celebrating my birthday separately, it would be my proud privilege, if 5th September is observed as Teachers' day". Since 1967, 5th of September has been observed as Teachers Day, in India.
Teaching really goes much deeper than mere books. Such are the duties of teachers, who have been entrusted with the formidable duty of helping to shape tomorrow's generation. Having a sense of empathy, dispensing the right advice, caring for the well-being of students; teachers need a good grasp of student's psychology to bring out the best in their students and encourage them to go that extra mile and realise their dreams. A teacher's satisfaction lies in seeing his/her students thriving further than him/her.
In fact, the status of teachers is such that wherever we go, even outside the school environment, we still retain that illustrious teaching aura. This is why we are considered as role-models and should therefore act like proper ones.
---------------------------------------------------------------------------------------------------------------------------------------------------------------------------
Archived Messages