Chancellor
Home
» About University » Chancellor
Her Excellency Smt. Mridula Sinha
Governor of Goa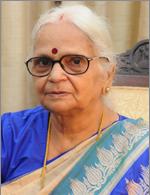 Chancellor
Goa University, Goa
.
31st January 2017.
Dear Students
As we all know, Assembly Elections for the State of Goa, have been declared on 4th February 2017. As students many of you may be new voters or first time voters and I understand the excitement and curiosity you may have about voting. At this juncture, I would like to share my experience with you.
Election is the festival of democracy. While going to cast your vote in favour of any party or candidate, you must feel delighted, as if your vote is going to decide the destiny of the State. Never treat the voting day as rest day. Keep in your mind that voting is not only your constitutional right but duty also. You have the moral obligation regarding how you vote. You must vote ethically for common good rather than narrow self interest.
Finally, I expect from you as a student of prestigious university to take the voting duty seriously and vote to make a good future of the State.
Jai Hind.
---------------------------------------------------------------------------------------------------------------------------------------------------------------------------
Archived Messages