Chancellor
Home
» About University » Chancellor
Her Excellency Smt. Mridula Sinha
Governor of Goa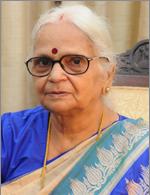 Chancellor
Goa University, Goa
.
17th August 2017.
Dear Students
India just entered into 71 years of Independence and our pledge to make motherland safe, secure and progressive stands tall on broad shoulders of today's youth. We nation of more than a billion celebrate festival of democracy and development to realise India, place in comity of nations, Viswa Guru.
Goa is known for its culture, tradition, festivals and forth coming Ganesh Chaturthi, Bakri-id, Onam, Dusshera, Dewali will bring blessings and eptimoe of cultural harmony and Prosperity. Each and every festival is celebrated with the knowledge of elder people and enthusiasm of youth. It is you people, who labour hard in organising such festivals. You get more and more enjoyment and happiness. Your creativity comes out and that itself satisfies you. To enchance your enthusiasm do not indulge in any uncoventional practices.
I hope you all will participate in festivals and enthusiasm.
I wish all very best for your academic season ahead.
JAI HIND.
---------------------------------------------------------------------------------------------------------------------------------------------------------------------------
Archived Messages